marinni
Уличные артисты. Часть 2.
17 век
Thomas Rowlandson (1756-1827), Doctor Botherum, the Mountebank, 1800.
Le Bon Genre- Париж, 1816 год. Собачка прядет, шарманка играет.
Уличные артисты работали как группами, так и поодиночке. И до 19 века были прообразы настоящих цирков с декорациями и реквизитом, работающих в крупных городах на карнавалах и ярмарках. Но были и совсем бедные бродячие артисты- музыканты, дрессировщики, почему-то больше всего картинок с обезьянками.
Drey W: Wein, Würfel, Weib, oft stürzen Seel und Leib
1713 (?)
A medley broadside with 15 different images; with an engraving showing Callot figures, a caricature of a Baron von Kleinmittel, a hunting scene, a playing card, a mill, two monkeys playing cards, a street performer, two other caricatures, two scraps with text, and a title page and frontispiece of the first volume of "Gomgam, ou l'homme prodigieux"; with engraved inscriptions.
Caroline Fair, or Mat Pudding and his Mountebank, by George Humphrey (floruit 1831)
Hogarth
-Southwark-Fair-1734
Thomas Rowlandson (1756-1827), Doctor Botherum, the Mountebank, 1800.
Mountebank, 1844
Robert Turner
A mountebank at his stand in a rural fair, with a church beyond
Joachim Van Den Heuvel
Пляж в Неаполе- у моря выступают артисты
Bay of Naples with mount Vesuvius in the background; man eating pasta, brastfeeding peasant woman and beggars to left; street actors on an open-air stage to right; dogs fighting over a bone in the foreground. 1799
Print made by Johann Heinrich Ramberg
Roman street scene; four girls with tamborines on a swing to left; man and donkey standing next to a water basin to right; a group of people seated outside an inn being served by a waiter in the background to right; statue of St Peter in the distance to left. 1797
Print made by Johann Heinrich Ramberg
Roman street-scene; in the centre a woman with a spindle surrounded by children; gambling and arguing peasants in the background; monks and musicians to right. 1799
Среди них было много мошенников,отсюда у нас слово "шарлатан", см:
http://en.wikipedia.org/wiki/Charlatan#Famous_charlatans
Наперсточник Босха
Hieronymous Bosch paints a scene of a Renaissance mountebank fleecing incredulous gamblers.
The Conjurer.
The Prestidigitator.
The Magician.
Наперсточники 18 века
Formerly attributed to Paul Sandby
Date
1730-1809
Study for frontispiece to a Set of 'London Cries'; two boys peeping at a raree-show which a man is exhibiting
Longhi, Pietro
Title
Deutsch: Der Scharlatan
Year 1757
-------------------Разные артисты------------------------
========================================
======================
Drawn by Jean Duplessi-Bertaux
1747-1819
A Mountebank at a fair; standing at a trestle table, a cup in one hand a wand in the other, with spectators, part of an Inn at l, other buildings beyond at r
Pen and black ink
-----------------------
Люди-фонтаны
Vera Effigies Filippo Giuliani
whole-length portrait, turned slightly to right, leaning against the base of a column; in right background a crowd gathered in front of Giuliani, who is spewing out water.
1680
Print made by Sutton Nicholls
1710 (ca)
Satire on quack doctors showing an outdoor stage with, from left to right,Harlequin holding his slap-stick, a well-dressed quack with a medicine chest at his feet, and a gentleman, hat in hand, whose cloven hooves show him to be the devil in disguise
Жонглер
After Luke Fildes
A man juggling three balls in a cobbled street, with a boy picking up three daggers in the left foreground, a man dressed as a king playing a large drum, and a young girl on stilts holding out a bowl to the crowd gathered round; proof illustration to Once a Week. 1869
Факир и скрипач
Print made by Victor Auger
Printed by Godefroy Engelmann I
Fakir about to swallow sword in street, accompanied by violin-player and watched by elegant men and women. 1817?
Театр марионеток.
Published by Nicolo Cavalli
After Francesco Maggiotto
Print made by Giovanni Volpato
A Punch and Judy show, with two puppets appearing on a makeshift stage, while a blind fiddler plays an accompaniment. c.1765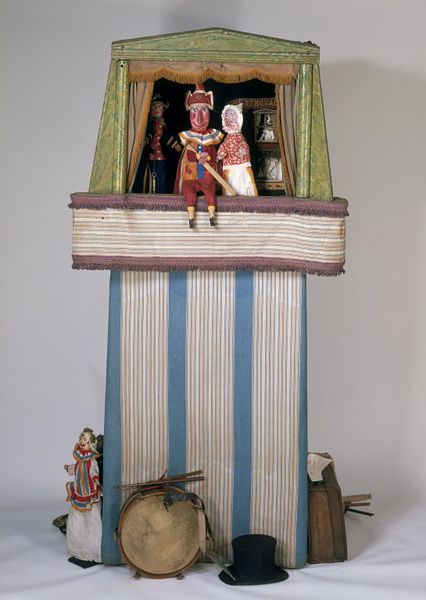 Старинные марионетки из Музея Виктории и Альберта
Группа музыкантов-савояров с шарманкой
девушка с лирой.
A Band of Savoyards
An organ grinder after Bunbury, published state with the margins of the plate not cleaned. 1785
Antoine Watteau
Savoyard with a marmot
Это один из бедных жителей горной Савойи, отправлявшихся странствовать в надежде на заработок. С ним флейта, шарманка и ученый сурок, умеющий «гадать», вытаскивая записочки со «счастьем».
Шарманщик и волшебный фонарь
Le arti per via / Savoiardi colla Lanterna Magica
A Savoyard standing at the door of an inn, carrying over his shoulders his magic lantern, with his boy behind him holding a ferret in a box. c.1765
Published by Nicolo Cavalli
After Francesco Maggiotto
Print made by Giovanni Volpato
Кукольный театр
Fox stands (right) behind his peep-show, a rectangular box, supported on trestles, which is a model of the India House showing (right) the Leadenhall Street façade. On the side of the box (left) are two circular holes through which Britannia stoops to look.
---------------------Обезьянки----------
-----------------------
After Marcellus Laroon II
A satiricial broadside on Hans Buling, a Dutch mountebank in London; with an engraving partly after Marcellus Laroon
After Adriaen Brouwer
Date
1620-1638
==========The Cryes of the City of London Drawne after the Life / Mountabanck==========
After Marcellus Laroon II
Published by Pierce Tempest
An elaborately dressed charlatan, holding a small bottle of medicine from a selection around a box at his feet, while a monkey sitting at right pulls on a cord hanging from his waist; from bound series of the Cries of London. 1688
Published by Pierce Tempest
1685-1715
A performer (possibly Hans Buling), bearded and standing, wearing hat and costume, beside an open chest and a monkey in costume.
The Cryes of the City of London Drawne after the Life / Clark the English posture master
After Marcellus Laroon II
Published by Henry Overton
Published by Pierce Tempest
a contortionist standing with his right leg held up to his head behind him and right arm in the air, while a monkey at left mirrors his pose; from numbered series of the Cries of London, the plate worn. 1688, published in early 18thC
--------------------------------
Print made by Carl Gottlieb Guttenberg
After Ludwig Meyer (?)
Street performers, acrobats and musicians performing with dressed -up dogs and monkeys; onllokers in the background; after Meyer. c.1780s
Print made by Philip James de Loutherbourg
street-performer standing on a stage and doing a magic trick with three cups on a table; at his feet, a monkey seated on the edge of the stage. c.1755/71
Etching
Print made by Abraham Raimbach
девушка с лирой
After David Wilkie
1834
A stout man in a tricorn walking with a staff in his left hat, leading a boy with a pet monkey with his right, towards the jail which a man bends to unlock on the right, looking over his shoulder to the other members of a travelling circus
Dancing Lesson
After Edwin Landseer
Date
182
------------------------Дрессировщики---
-------------------
========================================
========================
Print made by Gronier
After Nicolas Tanché
Date
1740-1760 (circa)
Bear leader accompanied by two musicians, performing in the street. c.1750
Etching
Дама с с лирой
After Henry William Bunbury
A troupe of street entertainers walking along a road to left, looking around themselves as if they are lost,1804
After Philip James de Loutherbourg
Man seen from behind, dancing, with violin in left hand and bow in right hand; a dog wearing a jacket sits at his feet, at left; another, wearing a dress, dances before him; copy in reverse of a plate etched by Loutherbourg c.1755/71
------------------------Музыканты-------
---------
========================================
================
Музыкант с лирой.
Drawn by Joseph Stannard
A Hurdy-gurdy boy; whole-length turned to right, looking over his right shoulder, wearing long coat and blue apron, playing a musical instrument. 1830
Coloured chalks; on brown paper
Исполнитель баллад
After George Carter
Print made by John Raphael Smith
The Old Ballad Singer; portrait of John Massey, an old man, standing at (?)at end of Blackfriars Bridge sellling ballads and resting on stick, in front of wall, woman and boy passing; (?)St Paul's Cathedral seen beyond; proof before letters, but with scratched inscription. 18 January 1775
Mezzotint
Cлепой музыкант
Print made by Walter Geikie a fiddler playing in the street, with a dog at his heels and an old woman standing behind him, raising a stick at the dog, with two boys holding hoops standing and listening, and several other people talking in small groups in the background. 1841
Группа слепых музыкантов в Париже
Print made by Jean Henri Marlet
Tableaux de Paris / Aveugles des quinzes vingts, en promenade
A troupe of eight blind musicians promenading in a Paris street. c.1820/24
Музыкант с собачкой и марионетками.
традиционная итальянская волынка zampogna.
Print made by Jean Daullé
After Jacques Dumont
Standing man playing bagpipes whilst manipulating some puppets with his right foot; two children are watching the performance; after Dumont; finished state, before publication address. 1739
Etching and engraving
----------------------Le Bon Genre ---------------
=================Парижские улицы, начало 19 века=====================
Le Bon Genre / Le grimacier
Published by Pierre Lamésangère
Plate 95: a street performer playing a violin and trumpet while pulling a face, watched by four ladies wearing hats. October 1816
Le Bon Genre / Jacques de Falaise le polyphage
Le Bon Genre / Les petites marionnettes
three women and a man strolling watch a street show with a boy playing a pipe and making three marionettes dance by a string attached to his knee. November 1815
Hand-coloured etching
Le Bon Genre / Le joueur de baguettes
a street performer brandishes his drumsticks, while a violinist plays; three ladies watch. July 1816
Le Bon Genre / Le chien qui file, ou à quoi tient la bienfaisance
a mother and child, watched by another woman, give a coin to a street entertainer who plays an organ while his poodle operates a spinning wheel. December 1815
An open-air performance in Paris. An acrobat stands on his head on a table, while a man seated on a tree-stump fiddles and a boy dance
Le Bon Genre / Le troubadour jouant de six instrumens
Published by Jean Baptiste Genty
1814
Eight English tourists (one an elderly woman), grotesque and ill-bred, in the Boulevard du Temple, which is indicated by a placard against a low platform on trestles: 'Spectacle du Monde en Miniature'.
========================================
=======================
---------------------Индия--------------
----------
-------------------Япония---------------
----------
Painted by Kawahara Keiga
1820-1830 (c.)
Painted by Kawahara Keiga
1820-1830 (c.)
Painted by Kawahara Keiga
1820-1830 (c.)
Еще по теме:
Карлики, калеки, бродячие и цирковые артисты.
Гравюры, медицинские рисунки и фото.16-19век-ТУТ
Ходули- применение, артисты и поединки на ходулях - старинные картинки-ТУТ
Карнавалы. Живопись и гравюры,15-19 век-HERE
Начало:
Уличные артисты. Акробаты и канатоходцы. 17-19 век.Part 1-HERE-ТУТ