marinni
Собаки. Живопись и графика.15-19 век
KEYSER, Thomas de Portrait of a Young Boy
BALDUCCI, Matteo Diana and Actaeon
Heinrich Aldegrever German, 1502-c.1560 Man with a Dog and a Stick, from The Set of Large Wedding Dancers, 1538. Art Institute of Chicago
Print made by Sebald Beham
Date
1518-1530
---------------------------ЖИВОПИСЬ-----
---------------------
GOSSAERT, Jan St Anthony with a Donor 1508 Oil on panel (arched), 40,2 x 22 cm Galleria Doria-Pamphili, Rome
EYCK, Jan van
Portrait of Giovanni Arnolfini and his Wife
1434
Oil on oak, 82 x 60 cm
National Gallery, London
EYCK, Jan van Portrait of Giovanni Arnolfini and his Wife (detail) 1434 Oil on oak National Gallery, London
DAVID, Gerard Crucifixion c. 1515 Oil on oak, 141 x 100 cm Staatliche Museen, Berlin
ANDREA DEL SARTO
Tobias and the Angel with St Leonard and Donor
1512
Panel, 178 x 153 cm
Kunsthistorisches Museum, Vienna
Dosso Dossi (1490-1542)
Portrait Of A Young Man With A Dog And A Cat
Oil on panel
10 7/8 x 9 3/4 inches (27.69 x 24.89 cm)
Private collection
UNKNOWN MASTER, Hungarian
Marriage of Saint Catherine
c. 1500
Tempera on wood, 101,5 x 73 cm
Hungarian National Gallery, Budapest
BALDUCCI, Matteo
Diana and Actaeon
Venus and Adonis Titian (Tiziano Vecellio) (Italian, Venetian, born about 1488, died 1576). MET NYC
----------------------------17 век---------------------------
Dog at rest. Gerrit Dou, Dutch, 1613-1675. MFA Boston
Don Andrés de Andrade y la Cal Bartolomé Esteban Murillo (Spanish, 1617–1682). MET NYC
Don Andrés de Andrade y la Cal Bartolomé Esteban Murillo (Spanish, 1617–1682), detail. MET NYC
Hamen y León, Juan van der Naturaleza muerta con florero y perro 228 cm x 100,00 cm Hacia 1625, detail. Prado
CESARI, Giuseppe
Diana and Actaeon (detail)
1603-06
Oil on copper
Museum of Fine Arts, Budapest
Boy Looking for Fleas on a Dog
Nunez de Villavicencio, Pedro.
Oil on canvas. 60.7x47.8 cm
Spain. 1650s
KEYSER, Thomas de
Portrait of a Young Boy
1620s
Oil on panel, 79 x 119 cm
Private collection
EVERDINGEN, Caesar van Portrait of a Girl as a Huntress c. 1665 Oil on canvas, 126 x 106 cm Koninklijk Museum voor Schone Kunsten, Antwerp
EVERDINGEN, Caesar van Jupiter and Callisto 1655 Oil on canvas, 165 x 193 cm Nationalmuseum, Stockholm
LARGILLIÈRE, Nicolas de
Tutor and Pupil
1685
Oil on canvas, 146 x 115 cm
National Gallery of Art, Washington
QUELLINUS, Erasmus II
Flemish painter (b. 1607, Antwerpen, d. 1678, Antwerpen)
Portrait of a Young Boy
-
Oil on canvas, 136 x 103 cm
Koninklijk Museum voor Schone Kunsten, Antwerp
Still Life in an Architectural Setting
c. 1645
Oil on canvas, 112 x 83 cm
Museum of Fine Arts, Boston
QUELLINUS, Erasmus II
Flemish painter (b. 1607, Antwerpen, d. 1678, Antwerpen)
RUBENS, Pieter Pauwel
Portrait of Lady Arundel with her Train
1620
Oil on canvas
Alte Pinakothek, Munich
OSTADE, Adriaen Jansz. van
The Interior of a Peasant's Cottage
1668
Oil on canvas
Royal Collection, Windsor
Interior of Dutch Kitchen Adriaen van Ostade, Dutch, 1610–1684. MFA Boston
JONGH, Ludolf de
Woman Receiving a Letter
1663-65
Oil on canvas, 60 x 72 cm
Private collection
--------------------------18 век
GAINSBOROUGH, Thomas Mr and Mrs William Hallett ('The Morning Walk') 1785 Oil on canvas, 236 x 179 cm National Gallery, London
GOYA Y LUCIENTES, Francisco de Les Jeunes or the Young Ones 1812-14 Oil on canvas, 181 x 122 cm Musée des Beaux-Arts, Lille
DESPORTES, Alexandre-François
Self-Portrait as a Huntsman
1699
Oil on canvas, 197 x 163 cm
Musée du Louvre, Paris
Luncheon Party in a Park Alternate Title: Le Déjeuner de jambon about 1735 Nicolas Lancret, French, 1690–1743. Detail. MFA Boston
A Dance in the Country Giovanni Domenico Tiepolo (Italian, Venetian, 1727–1804). MET NYC
---------------------19 век---------------------
A Dog by a Basket of Grapes in a Landscape
Ferdinand Waldmuller - 1836
Private collection
Painting - oil on canvas
COURBET, Gustave Nude Woman with Dog 1868 Oil on canvas, 65 x 81 cm Musée d'Orsay, Paris
------------------------ГРАФИКА-17-19 век------------------------------
Print made by Francis Barlow
Date
1652
'Theophila' by Edward Benlowes, showing a female figure who represents Theophila kneeling at an altar for protection from the wild animals that menace her, with eight lines of verse printed from a second plate below
A savoyard boy playing a violin, facing front with a dog standing on its hind legs on the right, two more dogs to his immediate right and left barking at the standing dog, a wall behind and beyond it a building with smoking chimney; first state before number. 1658
Etching
Child teaching a dog to sit; to left, a child seated on the ground against a wall, teaching a dog to sit on its hind legs, with another child seated to right embracing another dog; with buildings and trees behind. c.1662
Illustration to Fables 44 and 45 from John Ogilby's Aesopic's, or A second collection of fables (1673);
Print made by Francis Barlow
Date
1668-1673
van-dyck
So great Ones keep the less in aw, Like Dog with Mutton under Paw
1667-1743
Circus dog, standing on its hind legs; a top hat in front of it to left; another dog sleeping to right. 1832
Print made by Johann Adam Klein
Give the Poor Dog a Bone
After James Bateman
1843 (circa)
Alexander and Diogenes
Block cut by Alfred Harral
After Edwin Landseer
Date
1848
A woman with her two children, a nude toddler and a boy dressed-up in medieval costume embracing a dog and holding a falcon which is seated on his left hand in a landscape; first state before the dedication to the artist's brother. 1861Print made by Ludwig Emil Grimm
Date
1862
A young girl bathing a white dog, watched by a cat sitting on a stool behind at right; after Burton Barber, proof before letters. c.1853
-----------Сатирические сценки----------------------------------
Print made by Charles Williams
Date
1824
Drawn by Thomas Rowlandson (biographical details | all objects)
Date
1757-1827
-----------------------------------Скуль
птура
Attributed to Georg Schweigger
A Dog Scratching, 1630s
Samuel H. Kress Collection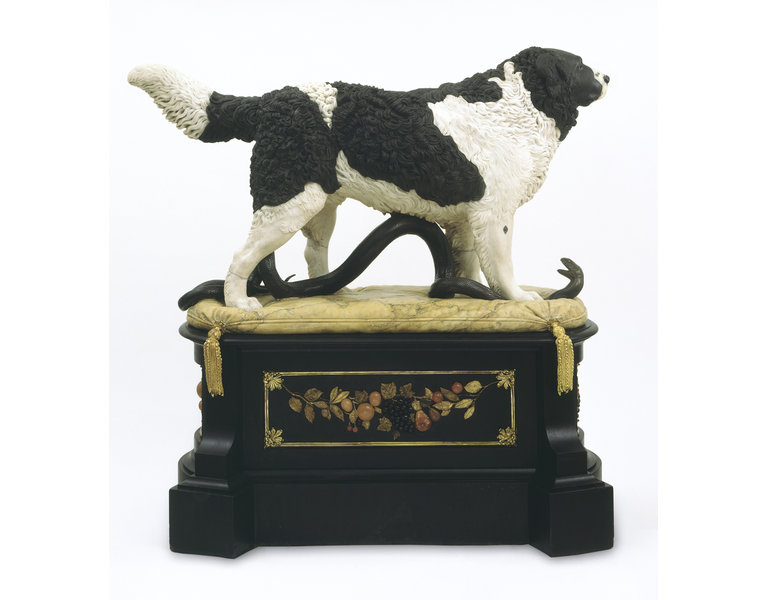 Bashaw; The faithful Friend of Man Trampling under Foot his most
Date:1831 (commissioned)
1832-1834 (made)
1834 (exhibited)
Artist/Maker:Wyatt, Matthew Cotes (studio of, sculptor)
Materials and Techniques:Coloured marbles and hardstones; eyes of topaz, sardonyx and black lava; snake of bronze, with ruby eyes; cushion mounts of gilt bronze
This life-size sculpture of a Newfoundland dog was commissioned by John William Ward, 1st Earl of Dudley, to commemorate his favourite dog. It was to be placed in Lord Dudley's house in Park Lane, London. The dog was sent from Lord Dudley's country seat, Himley Hall, Staffordshire, to London to sit to Wyatt 50 times. Lord Dudley died in 1833, before the sculpture was finished, and a dispute about the price (£5,000) between Wyatt and Lord Dudley's executors was never resolved, the sculpture remaining in Wyatt's possession until his death in 1862.
Собаки в живописи 2 часть-ТУТ
Собаки в живописи 1 часть-ТУТ
http://www.artcyclopedia.com/index.html
http://www.wga.hu/frames-e.html?/html/l/lippi/filippo/1460/index.html
http://www.britishmuseum.org/default.aspx
http://www.flickr.com/photos/renzodionigi/
http://www.wga.hu/