marinni

Barthel Bruyn старший(1493-1555)и младший(1530-1610)
Portrait of a Woman with her Daughter.c. 1540
Portrait of a Man with Three Sons.c. 1530
Barthel Bruyn (1493-1555)
Называют: Bartel Bruen; Bartold Bruin; Bartold Brun; Bartholomaeus Brune; Bartel Bruns; Bartholomaeus "de" Bruyn; Bartholomaeus (1493) Bruyn; Bartholomäus Bruyn; Bartholomäus De Bruyn
--------------------------------------
Portrait of a Woman with her Daughter
c. 1540
Oil on canvas, 77 x 46 cm
The Hermitage, St. Petersburg
BRUYN, Barthel
Portrait of a Noblewoman
1530-35
Oil on panel, 45 x 36 cm
Museo Correr, Venice
BRUYN, Barthel
Portrait of a Woman
1539
Oil on panel, 35 x 26 cm
Museo Thyssen-Bornemisza, Madrid
BRUYN, Barthel
Portrait of a Young Woman
-
Oil on canvas
Wallraf-Richartz Museum, Cologne
Portrait of a Lady, c.1539
Anne of Cleves - Barthel Bruyn, c. 1540s
From the workshop of Barthel Bruyn the Elder in Cologne. Recent x-rays have revealed a longer nose under the top layer of paint.
At St. John's College Oxford
Portrait of Anne of Cleves
the BBC History Magazine although no details were given in regards to the identity of the painter or the date of the painting. However Hampton Court's website states that the portrait is attributed to Barthel Bruyn, painted in the 1530s and is part of the collection of Trinity College, Cambridge.
Margarethe von Aich - Barthel Bruyn the Elder, 1540 German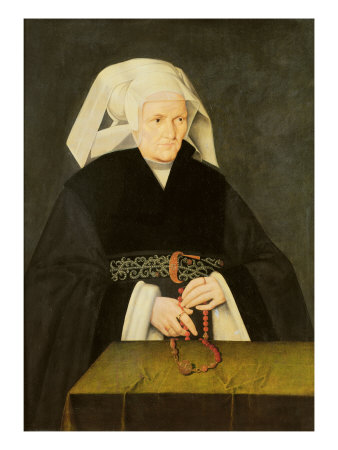 Portrait of a Woman, c.1550
by Bartholomaeus Bruyn
Barthel Bruyn the Elder (German, 1493–1555)
TitlePortrait of a Woman
Date1533
Mediu
-----------------------
Bartholomaus Bruyn (l'ancien) : Katarina van Gail (1503-1540) et ses deux filles
Bartholomaus Bruyn (l'ancien) : Philipp van Gail (1498-1558), marchand colonais et cinq de ses fils
---------------------------
BRUYN, Barthel
Portrait of a Man with Three Sons
c. 1530
Oil on canvas, 76 x 46 cm
The Hermitage, St. Petersburg
Portrait of a Young Man, 1528
St. Maurice
Barthel Bruyn the Elder (German, 1493–1555)
TitlePortrait of a Man
Date1533
-------------------------
BRUYN, Barthel
Skull in a Niche
-
Oil on canvas, 37 x 30 cm
The Hermitage, St. Petersburg
BRUYN, Barthel
Vanitas Still-Life
-
Oil on wood, 61 x 51 cm
Rijksmuseum Kröller-Müller, Otterlo
----------------------Barthel Bruyn the Younger----------
и
Barthel Bruyn the Younger (German, born about 1530, died before 1610
========================================
================
Barthel Bruyn the Younger - Portrait of a Woman
1560, St. Louis Art Museum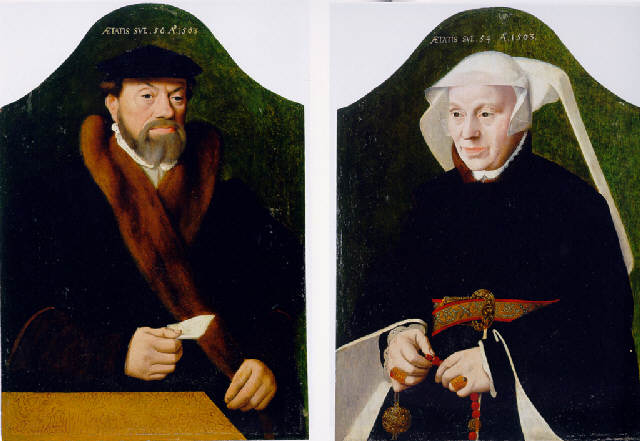 Bartholomäus (Barthel) Bruyn the Younger
Title Portrait of a gentleman in a black coat with a fur collar and a black hat, a letter in his right hand (+ Portrait of his wife in a black coat with white lining, an embroidered belt and a head-dress, holding a rosary; pair)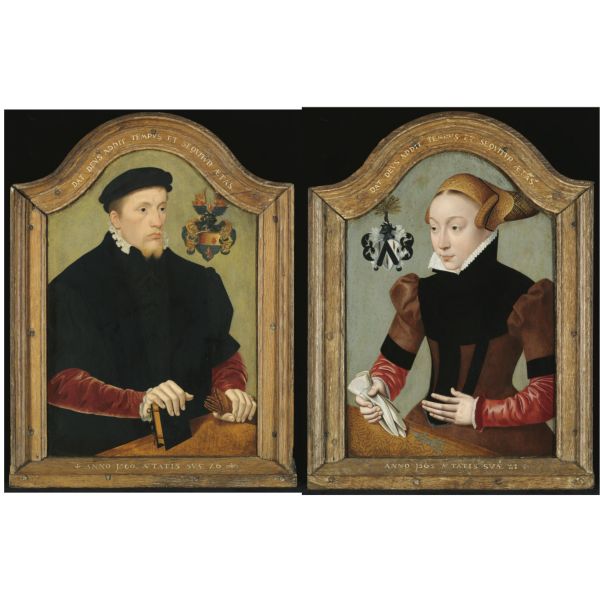 Bartholomäus (Barthel) Bruyn the Younger
Title Portrait of Nicolaus von Gail, aged 26, wearing a black doublet with red sleeves and holding a book and a pair of gloves (+ Portrait of Sophie von Wedigh, aged 21, wearing a black and red dress; pair)
------
Barthel Bruyn the Younger (German, born about 1530, died before 1610)
TitlePortrait of a Woman of the Slosgin Family of Cologne
Date1557


Сейчас не работает сайт артциклопедии, но пока можно посмотреть еще :
==============================
Очень много работ списком:
http://wwww.wwar.com/masters/b/bruyn_the_elder-barthel.html
Картинки:
http://commons.wikimedia.org/w/index.php?title=Special%3ASearch&search=+Barthel+Bruyn++&button=
http://www.bridgemaninteriors.com/index.cfm?searchString=BRUYN&event=catalogue.qsearch&search=%D0%9E%D1%82%D0%BF%D1%80%D0%B0%D0%B2%D0%B8%D1%82%D1%8C+%D0%B7%D0%B0%D0%BF%D1%80%D0%BE%D1%81
http://worldvisitguide.com/contact/A010051.html
http://www.flickr.com/search/?q=Barthel%20Bruyn&w=all&s=int
http://www.allposters.com/gallery.asp?startat=%2Fgetthumb.asp&CID=5772267047DA49BBB269F5C51207B967&txtSearch=Barthel+Bruyn&imageField2.x=25&imageField2.y=15
http://www.artnet.com/artist/649701/bartholomaus-barthel-bruyn-the-younger.html